C A S E S
Volusia County Appellate Practice
Appellate Practice | Criminal Defense | Family Law | Juvenile Law | Civil Litigation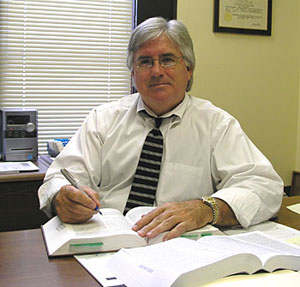 Mr. Barnette has handled hundreds of criminal and civil appeals in the appellate courts of the State of Florida. He is admitted to practice before all appellate courts in the State of Florida and the Fifth and Eleventh Federal Courts of Appeal as well as the Supreme Court of the United States of America.

Appeals may be civil, criminal or administrative. Examples of civil appeals include appeals from Final Judgments of Dissolution of Marriage in which one party wishes to challenge the findings and Final Judgment of Dissolution of Marriage entered by the trial judge. Other examples include appeals from Final Orders in juvenile court finding children to be dependent and/or terminating parental rights to challenge the rulings pertaining to parents' rights and obligations to their children.

Appeals in criminal cases involve challenges to Judgments and Sentences, or convictions, in criminal courts. Appeals from misdemeanor convictions are taken from the County Court to the Circuit Court. Appeals from felony convictions are taken from Circuit Court to the District Court of Appeal.

Administrative appeals may be heard in the District Court of Appeal in the same manner as an appeal from a Final Order in civil cases. Some administrative orders may be reviewable by certiorari in Circuit Court.

Original proceedings seeking issuance of an extraordinary writ such as certiorari, habeas corpus and/or prohibition may be filed in the Circuit Court, the District Court of Appeal or Supreme Court of Florida as outlined in the jurisdictional provisions of Article V, Constitution of the State of Florida.

Other examples of appellate cases would include appeals from denials of relief in post conviction pleadings in criminal cases. The trial court may deny an evidentiary hearing or deny relief when an inmate files a motion for post conviction relief pursuant to Fla.R. Crim.P. 3.850. An appeal would follow to the court having appellate jurisdiction over the court in which the order denying relief was issued.
| | | |
| --- | --- | --- |
| | | |
Reasonable Fees for Quality Representation
Free Consultation | Payment Plans Available | Master Card/Visa Accepted